Interlocking Tile Design Lets You Customize The Shape And Size That You Need
Decorative Vented Design Will Look Great In Any Room.
Great For Child Safety - Baby Proof Any Room by Creating a Barrier Between Your Little Ones and The Hot Radiator.
Easy and Quick to Build, No Tools Required!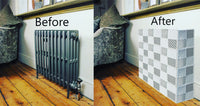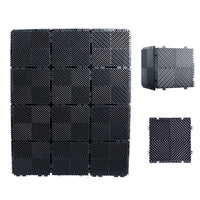 HOW THEY WORK
Ready Cover Tiles Connect To Each other Easily By Snaping Together. They Can Connect Both Straight And At A 90 Degree Angle So That You Can Build Any Shape Or Size That You Need! 

Ready Covers Can Also Be Used For Almost Anything In Your Home Or Office That You Would Like To Hide Or Not See, Don't Like The Way It Looks? Cover It Up!

Our Tiles Are Made From A High Quality Heat Resistant Plastic That Has A Melting Point Well Above The Heat That A Home Radiator Can Produce, So The Tiles Will Keep Their Shape And Not Discolor!
To Get Started Measure the Front, Sides, and Top of Your Radiator or Item to Figure out How Many Tiles you Will Need.
Each Tile Measures 7.5 X 7.5 Inches.
Order Below - Free Shipping!
About Us
Ready Covers Are A Simple And Stylish Solution For Any Exposed Radiator. We Designed A Tile System That Is Easy To Assemble And Can Cover Any Shape Or Size Radiator. Before Ready Covers You Would Have Had To Hire A Contractor To Build A Cover For Your Exposed Radiator Or If You Were Handy You Can Try And Do It Yourself But These Options Take A Lot Of Time And Are Also Very Expensive, We Made It Simple, Modern And Affordable! 
We Use High Quality Heat Resistant Plastic To Make Our Tiles And They Can Connect At Both Straight And At A 90 Degree Angle So That It Will Always Be A Perfect Fit. We Have Many Customers That Use Them To Cover All Types Of Things That They Would Rather Not See In Their Home And Office. They Just Love The Way It Looks! People Have Said That It Doubles As A Piece Of Art!
We Are Committed To Making Your Home Safer For Children And At The Same Time Making Your Home More Beautiful. Try Ready Covers Today!

For Wholesale And Any Other Inquiries Please Contact us at:  info@readycoversonline.com
ASSEMBLY INSTRUCTIONS